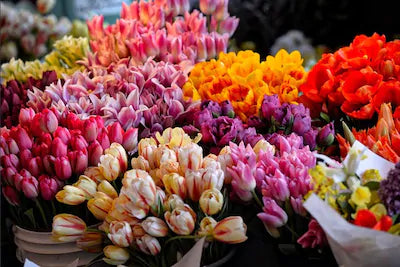 10 Beautiful Flowers to Ring In the New Year
As the year draws to a close and we prepare to welcome in 2023, what better way to celebrate than with a gorgeous bouquet of flowers? No matter your style or budget, there are plenty of creative ways to incorporate beautiful blooms into your New Year's decorations. From vibrant pops of color to subtle pastel shades, here are 10 of the best flowers for bringing in the new year.
Roses
Roses are timeless classics that will never go out of style. Whether bright red or soft pink, roses can add an elegant touch to your New Year's décor. They also make great gifts and can be used as centerpieces at dinner parties or arranged in vases around your home.
Tulips
Tulips come in such a wide variety of colors, shapes, and sizes that there is sure to be one that fits your desired look! These cheerful flowers are perfect for brightening up any room and adding a festive touch for the holiday season.
Gerbera Daisies
These stunning daisies come in an array of colors from deep purples and blues to sunny yellows and oranges. They also have large blooms which makes them great for filling big spaces or making an impactful statement piece.
Daffodils
Daffodils represent rebirth and renewal—what better way is there to ring in the new year? These cheery yellow blooms are associated with springtime but they can still bring life and energy into your home during the winter months.
Lilies
Lilies come in many different shapes, sizes, and colors so you're sure to find one that matches your desired aesthetic! They're especially popular around Easter but their beauty extends beyond just one season; lilies can add an extra special sparkle during New Year's celebrations as well.
Carnations
Carnations are often overlooked but these fragrant flowers can add a pop of color anywhere you need it! They come in many different shades ranging from soft pinks and purples all the way up to bright oranges and yellows so you'll definitely be able to find something that suits your taste.
Hydrangeas
Hydrangeas have long been popular as wedding decorations but they're equally as beautiful when used for New Year's celebrations! These big blossoms come in many different shades from icy blue hues all the way up through warm purples, making them perfect for adding some visual interest wherever you need it most.
Iris
Irises have long been symbolic of faithfulness—a perfect sentiment for new beginnings! With its unique shape, these beautiful flowers will add an eye-catching element anywhere you place them while still maintaining an air of elegance. Plus they come in a variety of colors so you can easily find something that complements any existing décor scheme!
Orchids
Orchids may seem intimidating at first glance but they actually make wonderful additions if you know how to care for them correctly! These exotic blooms come in many different varieties ranging from white petals with deep purple centers all the way up through lush pink petals with pale green streaks running throughout—the possibilities are nearly endless so feel free to explore until you find something that speaks directly to your heart!
Chrysanthemums
Chrysanthemums symbolize joy and happiness—two feelings we could all use more of this time of year! Available in many different shapes, sizes, and colors these bright blooms will help bring some brightness into your home during this cold winter season while still adding a touch of class wherever it is placed.

Conclusion:
Why not take some time now to think about how best we can decorate our homes with fresh flowers? There's no shortage of options available—from classic roses all the way through exotic orchids—so don't hesitate; start planning now so that when January 1st rolls around you'll be ready with a gorgeous bouquet fit for ringing in the new year. Happy holidays everyone!